Welcome to the Miniature Pinscher Club of America, Inc.
The MPCA is dedicated to protecting and advancing the interests of the Miniature Pinscher. It encourages and promotes the responsible breeding of pure-bred Miniature Pinschers.
Public Education:
Visit our General Info page for breed information and answers to frequently asked questions. If you can't find the answer to your question, contact one of our Public Education Committee Members.
Susan Souza (California)
Carole Rerko (Ohio)
New MPCA Products:
The MPCA is proud to offer for sale a new line of Min Pin products with the official MPCA Banner. We offer t-shirts, mugs, aprons, bags and much, much more. Visit http://www.zazzle.com/mpcaminpin to view and purchase our exciting new line of products.
Judges' Education: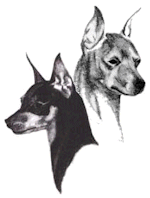 The MPCA is dedicated to providing accurate educational material to judges, aspiring judges and exhibitors. Visit our Judges' Education page to view our education information.
Update Form:
Member Information
Please be sure to notify the MPCA if you change your address, phone or email address. Contact us and submit your change of information.
Breeders:
Breeder Referral
Always purchase from a reputable breeder. Check out the
and
Upcoming Events:
MPCA National Specialty
Date: March 13-16, 2016
Location:Kentucky
INFORMATION
MPCA Objectives
The Miniature Pinscher Club of America, Inc. has been an AKC Member Club since 1930. It is dedicated to the Miniature Pinscher and it's objectives are as follows:
To encourage and promote quality in the responsible breeding of pure-bred miniature pinschers and to do all possible to bring their natural qualities to perfection.
To urge members and/or breeders to accept the standard of the breed as approved by the American Kennel Club, Inc. as the only standard of excellence by which the miniature pinscher shall be judged.
To do all in its power to protect and advance the interests of the breed by encouraging sportsmanlike competition at dog shows.
To provide educational seminars and conduct sanctioned matches, obedience trials, and specialty shows under the rules of the American Kennel Club, Inc.
---
Pinscher Patter
OFFICIAL MPCA PUBLICATION - WINTER 2014 ISSUE
---
Copyright for all material in this site not otherwise credited is held by the Miniature Pinscher Club of America, Inc. and permission to reproduce any material in any electronic or printed version must be specifically requested. Disclaimer: Material presented in this site is intended for personal information only, and is subject to editing and display errors. The Miniature Pinscher Club of America,Inc. has made every effort to insure the accuracy of the information provided. In no event shall the MPCA Officers, Board of Directors or Webmistress be liable for any incidental or consequential damages, lost profits, or any indirect damages.
Web site redesign 07/2011; Webmaster - Trudy Roundy